Multiplication is one of math operations that could be quite challenging for students. Lower students from first, second or third grade may find difficulties when they have to face math problems on multiplication. In the meantime, Building a firm understanding of multiplication concept will be very important for these students for their further learning on math skill later on the future. Therefore, math worksheets would be very helpful for the students to have more exercises to help them improve their ability in counting. And in this article, you would find 3rd grade multiplication math worksheet on several versions. The main goal is to help the students of third graders to find easy ways to understand mathematics better and to do the counting fluently.   
Multiplication Tables
On this multiplication tables worksheet, you would be given a table of multiplication number from 1 to 10. You would have a full multiplication table with some missing numbers in some cells. The cells should be filled with the result of multiplication from the number on the first row and the number on the first column. What you have to do is to fill in the empty cells with correct numbers so that you will get your math facts practiced here.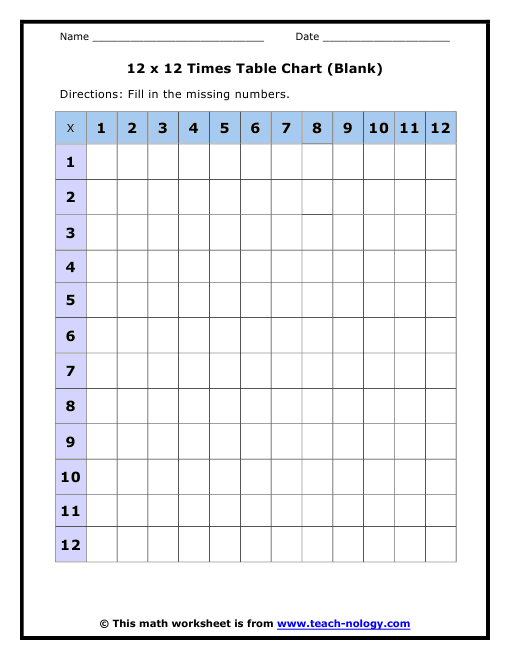 Multiplications Facts: True or False
In this multiplication facts: true or false worksheet, you will be provided with a number of multiplication sentences, then what you have to do is to tell whether the multiplication sentence is true or false. And you find out that they are false, you should fix it into the correct ones. On the other worksheet on multiplication facts: true or false, you would find another interesting exercise. You would be given an equation of two multiplications sentences, and then you should tell whether the equation is right or wrong. For example, is it true that 9 x 7 = 8 x 5? See, quite challenging, isn't it?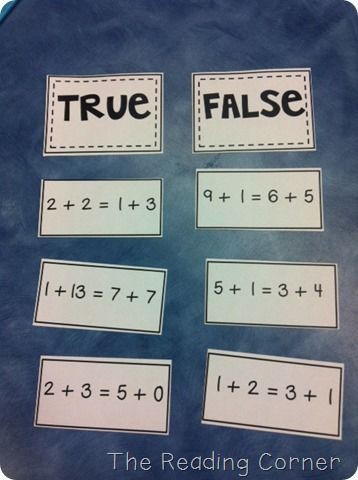 Multiplication Facts: Sorting
Another version of 3rd grade multiplication math worksheet that you can find is in the form of multiplication facts: sorting worksheet. In doing the sorting, you should understand first about the properties of multiplication. In this worksheet, you will be provided some multiplication sentences, and then you have to sort them out based on the properties given on the worksheet.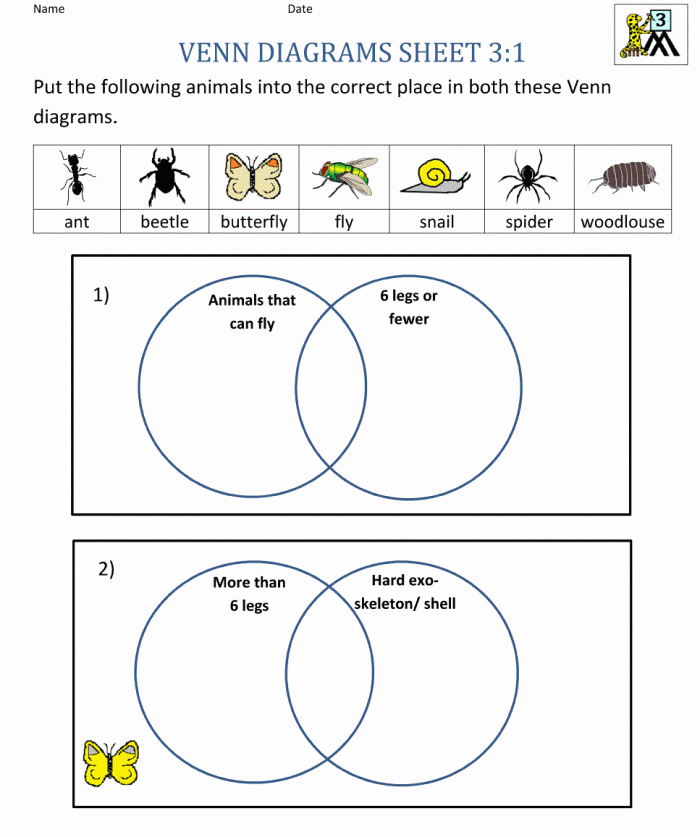 Multiplication Facts: Find the Missing Factor
This kind of multiplication facts: find the missing factor is actually a good exercise for students to introduce them to algebra concepts. There are several worksheets that you can find for this kind of exercises. The simple one is that you will be given some unfinished multiplication sentences, and you should complete them by filling in correct numbers to make the multiplication sentence correct. When solving the problems, you can include the skip-count method as well. For example: ? x 4 = 32. You can solve the multiplication equation by skip-counting by 4.
Multiply by a Multiple of Ten
Ten is a crucial number in multiplication operation. On this worksheet the third graders will learn multiplying whole tens by 10-90 by one digit numbers. This multiply by a multiple of ten worksheet will give exercise for the third grades to multiply by multiple of ten fluently.
Multiplication Word Problems
Before a teacher try this kind of 3rd grade multiplication math worksheet out for his students, it will be better for the teacher to make sure that the students have already have a strong understanding of the multiplication concept. There are several multiplication word problems models that you can use to practice the third graders' ability in multiplying, from the simple to the advanced ones. This worksheet will contain the simple multiplication math worksheet where the students have to read the word problems given, and write the multiplication equation from the problems. Then, they have to solve the problems correctly at the end of the activity.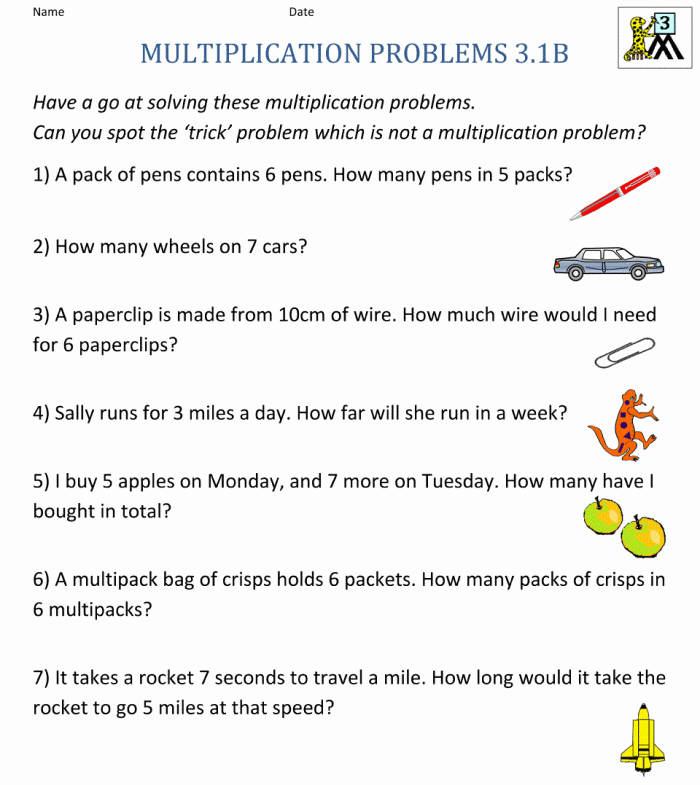 Compare Numbers Using Multiplication
In comparing numbers activity, we often use the symbol of <, >, and =. Make sure that the students have recognized these symbols well so that they can do the exercises on this 3rd grade multiplication math worksheet. Furthermore, this compare numbers using multiplication will combine the students' ability at the multiplication with their understanding of the concept of greater than, less than, and equal to. This combination exercise will surely improve their mathematical skill.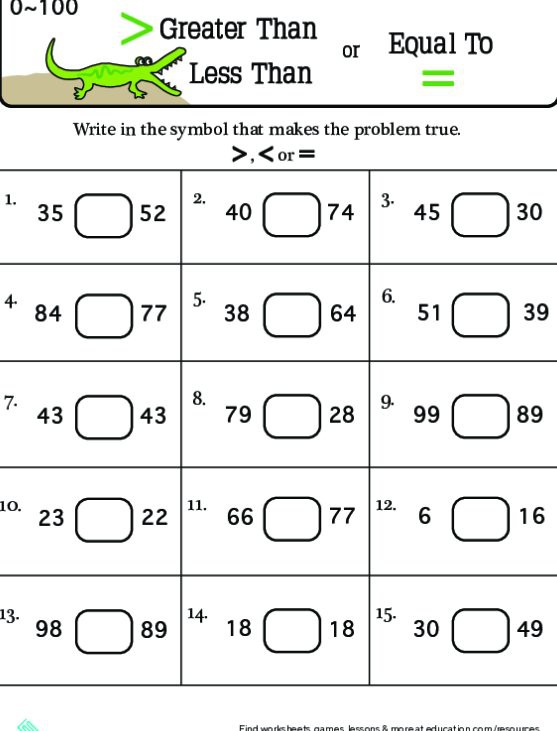 Multiply Three or More Numbers
This math worksheet is mainly to strengthen the skill of counting of students of third graders. In this multiply three or more numbers the students are provided with multiplication problems with three or more numbers. The fluency of the students' ability in counting is really sharpened here.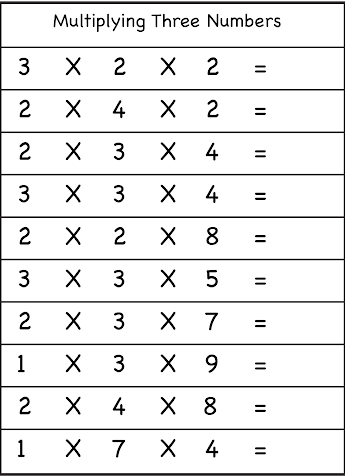 Box Multiplication
Box multiplication is really a good method to do multiplication problems using two or more numbers. This method will help students to do the problems quickly and effectively. In this math worksheet, students will have a chance to improve their ability in finishing multiplication problems faster.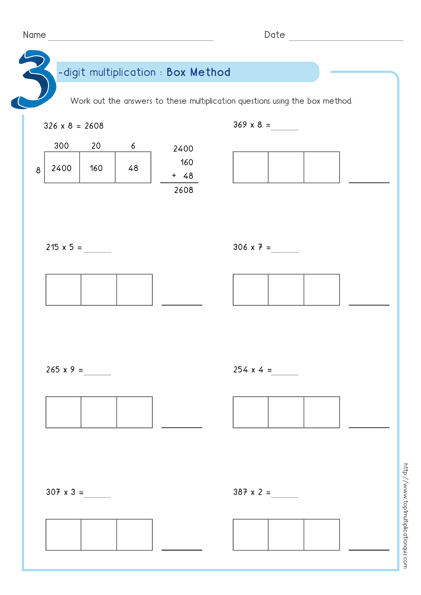 Lattice Multiplication
Lattice multiplication method is also commonly called Italian or Chinese method, or even sometimes called Venetian squares. That's because the multiplication method is used the squares to solve the problems. The method itself is identical with long multiplication algorithm, but it breaks the calculation into smaller steps. In this 3rd grade multiplication math worksheet, students are introduced of this method to solve multiplication problems using two or more digits. By using this method, the students are expected to solve the multiplication problems more easily.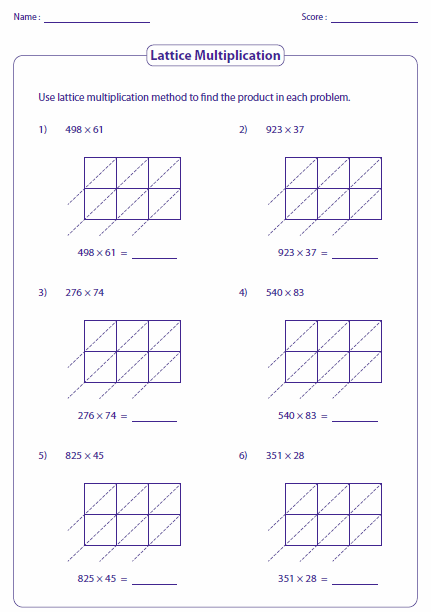 Though multiplication operation is a little bit harder than any other math operations, it doesn't mean that it is impossible to do. Various ways have already been created by the experts so that we can learn mathematics operations in so many ways to master the math skill. For the lower students, like the third graders, the 3rd grade multiplication math worksheet, like mentioned above, is essentially important to help them build a strong understanding and skill in math.
Related posts: